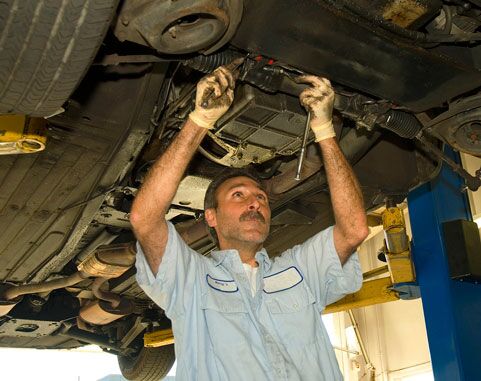 Welcome to Andy's Automotive!
(Best Auto Service in Moorpark, CA)
For personalized auto service in Moorpark, CA, you can count on our team here at Andy's Automotive. A two-generation family owned and operated repair shop, we take the time to get to know our customers and their vehicles.
We can handle everything pertaining to your car except tires, transmissions or alignments. You can count on our experienced automotive technicians to handle routine maintenance, troubleshooting and general repairs. With a strong work ethic and friendly approach, we will be the team you come to count on for all your future automotive needs.
Conveniently located near Moorpark Police Station, we have been helping keep cars on the road since 1978. We believe in making quality automotive repairs affordable, so when you deal with us you can count on being charged fairly, with no unnecessary fees or charges being tacked onto your bill.
When we handle your repairs, you get a warranty on labor. Also, all repairs and service work are completed in a clean, up to date facility. If you choose to wait on your car, we have a comfortable waiting area with free Wi-Fi. For your added convenience, we accept a variety of payment methods.
Anytime you are in need of auto service in Moorpark, CA, you can rely on us. We don't want you to visit just once. We build lasting relationships because our family wants to take care of your family for years to come. We believe in going above and beyond in all aspects of customer service.
Now is the time to experience the difference and come to visit us at Andy's Automotive. Let our family take care of your family. When you bring your vehicle to us, you can count on the repairs being completed efficiently and accurately because we want your vehicle to be operating safely.
Pick up your phone and call us at (805) 529-6666 today. Your car will thank you!
Business Hours
Monday
8:00AM – 6:00PM
Tuesday
8:00AM – 6:00PM
Wednesday
8:00AM – 6:00PM
Thursday
8:00AM – 6:00PM
Friday
8:00AM – 6:00PM
Saturday
Closed
Sunday
Closed